Laminated Auto Glass
Laminated Safety Glass provides impact resistance, occupant retention and security.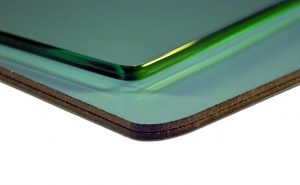 Impact Resistance
The principal feature of laminated safety glass is its performance under impact. The laminate absorbs the energy of an impact and resists penetration. Although the glass may break, the glass fragments remain firmly bonded to the laminate, minimizing the risk of injuries. US DOT regulations require the use of laminated (AS1, Category II) safety glass for all automobile windshields.
Occupant Retention
Even if a window is broken, the interlayer can continue to safeguard the interior and its occupants, even during roll-overs.
Security
Lastly, laminated safety glass provides resistance to forced entry. Burglars often break windows to get to door and window handles; laminated glass can resist their intrusion, providing added security.
Sanders Reproduction Glass offers flat glass windshields in laminated safety glass only and all other windows (doors, vents, quarters and backs) in either laminated or fully tempered safety glass. Please call (877) 882-4884 or send us an email for further details.